INTRODUCING
Harley-Davidson® Membership
Community engagement, route sharing and rewards points. All at no cost.
All Members Enjoy These Benefits
A New Harley Community
Get inspired and build connections with a new H-D community. Discover events or create your own. Join and create groups. Explore and post on a new social feed—all on the H-D App.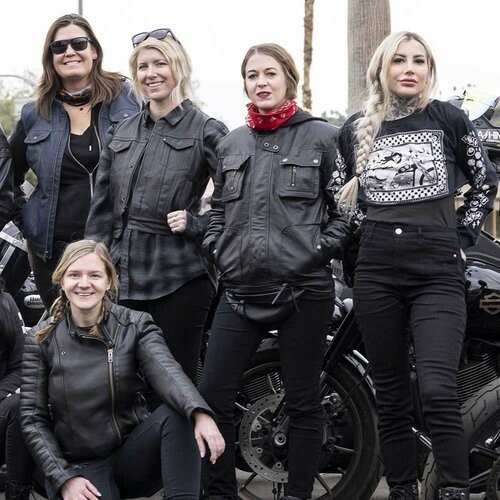 Exclusive Content
Experience and engage with the Harley® brand like never before. Enjoy exclusive content shared with you on the H-D App that's only available to members.
Get Rewarded for Being You
Get rewarded for doing what you love. Your community participation and purchases now earn you points that can be redeemed online and in dealerships.
Earn Points for H-D Purchases
Get More From Your Membership
Purchase a pass to access more benefits with your membership.
    Access Pass
Authentic H-D T-Shirt ($30 value)
Unlimited free H-D Museum visits
Free expedited shipping
Earn 5 points per dollar
Early lifestyle product access for members
Exclusive lifestyle events access
Invite a +1 with you to events
Influence on product development
Exclusive H-D content
Riding Academy discount
National partner discounts


    Rider Pass
Roadside Assistance (up to $100 value)
Free expedited shipping
34 Point Service Inspection (coming 2024)
Early riding gear access
Early parts and accessories access
EagleRider 10% rental discount
Earn 4 points per dollar
Exclusive riding communities & events
Exclusive riding content
National partner discounts



    Harley® Owners Group
Unlimited Roadside Assistance for two H-D VINs ($100+ value)
34 Point Service Inspection (coming 2024)
Exclusive H.O.G. T-Shirt
Unlimited free H-D Museum visits
Printed Harley Owners Group Magazine (coming 2024)
Free expedited shipping
Exclusive events, challenges and rewards for H.O.G. members
Earn 4 points per dollar
EagleRider rentals and tours discount
Access to all national partners



Access Pass

$29/year

Rider Pass
$49/year

Harley® Owners Group
$59/year

Product Benefits
H-D T-shirt
Expedited eCommerce Shipping
Early Access to Products
Riding Benefits
Riding Academy Discount
Roadside Assistance
Deluxe Roadside Assistance
Experiential Benefits
Lifestyle Event Access
Riding Event Access
Exclusive H.O.G. Events and Access
Community Benefits
Exclusive H-D Content
Exclusive Riding Content
H.O.G. Chapters and Challenges
Loyalty Benefits
5% back in points on eligible purchases
Riding Partnership Discounts
Partner Discounts and Points for riding miles
Hilton
Hit the open road and save when you stay with our preferred lodging partner, Hilton. Access Pass, Rider Pass and H.O.G. Members receive a 10% discount off their room bookings when they stay at any participating hotel in the Hilton portfolio of brands.
Fuel Rewards With Shell
Fuel up with savings for your road trip! Access Pass, Rider Pass, H.O.G. Members who register for the Fuel Rewards® program will save 30¢/gal on your first fill-up. Keep saving 5¢/gal at participating Shell stations with complimentary Gold Status after that. Terms and Conditions Apply.
Siriusxm
All members can stream the widest variety of entertainment - anytime, anywhere free for 4 months. Access Pass, Rider Pass and H.O.G. Members receive ad-free music, exclusive podcasts, live sports, talk, comedy, news and more. Use your phone to enjoy SiriusXM on your Harley®.
TENTRR
For the timeless pursuit of adventure, Access Pass, Rider Pass, and H.O.G members receive $50 towards two-wheel friendly Tentrr Signature camping at over 750 sites in 40 states as well as early access booking to the first Annual Top 10 Epic Ride & Stay List. Terms and conditions apply.
Eaglerider Rentals
The ride you want, with the convenience of EagleRider Rentals. If you're on the go, Rider Pass and H.O.G. Members can receive a 10% break on rentals with your EagleRider discount. In addition, H.O.G members will receive an exclusive 5% 
break on tours.
AT&T
H.O.G. Members save $10 per month per line on the AT&T Unlimited Premium (SM) plan.
Frequently Asked Questions
Community is at the heart of Harley-Davidson® Membership. The program is designed to facilitate authentic connections throughout the motorcycle community. Our app's social functionality was created to allow members to see and be inspired by the epic experiences of others, connect and discuss their passion for riding, and ultimately get out there and ride together.
Yes! H-D Membership is free to join and allows you to earn and redeem points, as well as participate in the motorcycle community via the H-D® App. If you want to upgrade your membership, there are multiple options to customize your experience.
Members earn points for purchasing H-D products and services, and for engaging with the membership community: sharing content, completing challenges, attending events and more. Earned points can be redeemed for H-D merchandise online or at a participating dealership. Members who also earn points with H-D™ Visa®, can maximize their points earned by combining their H-D™ Visa® points with their membership points and have additional options for redemption. Members also gain exclusive access to partners to take advantage of unique benefits, such as special discounts and product access at national partners.
Yes! There is a new loyalty point component of the H-D Membership program. Members will be able to earn points through buying eligible products online or in dealerships or by participating in engagement activities that Harley-Davidson® sponsors.
Members can leverage new digital and social tools in the newly redesigned H-D app, specially built for enthusiasts to create and amplify connections with others in the community. Membership enables users to share experiences, learn from each other and get out there together, using ride matching, member groups, ride recording and other tools to engage on and off the road.
Give the Member Services Center a buzz. They're literally pros at this stuff and will make sure you're getting the most out of your current membership and explain all the options for upgrading. You can reach our Member Services Center at 800-258-2464.
Not yet. It will be available in the U.S. in 2023 with plans for international expansion down the road.
There are strict moderation guidelines in place for any content posted on the App, with enforcement tools in place to ensure members and dealerships engage in ways that promote safety within the community.
Harley-Davidson® Membership
Harley-Davidson® Membership puts the H-D community in the palm of your hand, enhances the convenience of shopping at H-D.com, and is free to join.